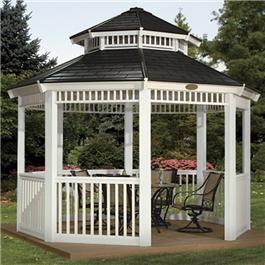 The BillyOh Suncast Open Gazebo is an ideal way of creating a vocal or centre point in your garden, it will provide both a place of shade for the summertime so you can dine alfresco and entertain friends or it can be used to protect you from sudden downpours. Not only does this gazebo have a practical use but it also adds to your gardens character be it a large or medium sized area. This Gazebo has been constructed and made using precisely cut components and moulded panels to make assembly easier and quicker. The suncast gazebo also requires very little maintenance thanks to the UV resistant materials used, this gives the Gazebo a pristine white and slate grey roof finish.
Price guide: £2999.99
Click on image for further information and to check the current price of this product.